Welcome Back!
Hello Everyone! Welcome back to campus, here at Prism, Editor-in-chief Maricruz Trenado and Assistant Editor Christine Castles are so excited to see the new and returning Prism volunteers again. We have so many fun events in the works for this upcoming school year. 
As things are beginning to calm down, regarding the pandemic, we have the privilege of meeting in person again. This would mean we are able to host volunteer meetings in person and up on the 4th floor of the Student Experience Center.  We are so excited to be able to host events, collaborations, and volunteer opportunities in person again. Some of our most recent events were tabling in the SEC Plaza, handing out submission flyers and past Prism issues! As well as our fall term Orange Media Network Open House!
Are you interested in becoming a volunteer for Prism? We would love to have you! As a volunteer you can write blog posts, host podcasts, be involved in events and help create and design the 2022-23 art and literature journal! Volunteer meetings are Fridays at 3pm on the fourth floor of the Student Experience Center in RM 402, the large conference room. There is also a remote option. 
For more details on the zoom link, email [email protected]
Reminders: 
The deadline for submissions is a month and a half away! If you are interested in seeing your work published in the '22-'23 Prism journal, fill out the submission form! The last day to submit your work is November 18, 2022 at 11:59 pm! We would love to see your photography, artwork, writing, music, film and many more! Every OSU student has the opportunity to submit, you don't have to be a specific major or even have specific work! We do not pick a theme until after submissions are in. Stay tuned for a How to submit blog coming soon!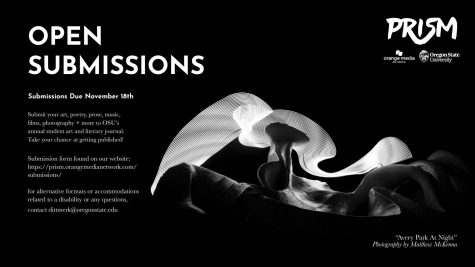 Our journal is annual, so this is your only chance to submit! Our journal will be released in  May 2023. 
For other updates and information, make sure to follow us on social media @osuprism. 
Upcoming Events: 
Maricruz and Christine will be hosting an informational and Open Mic event at the International Living-Learning Center on October 19, from 4-6 pm. During this event you will learn about the volunteer opportunities available and have the opportunity to share your work with others!  The open mic form is now available, however, you are welcome to show up and get added to the list at the event. 
Check out our Events section on our website for reminders about these events, volunteer meetings and our submission deadline.
That's all for now! 
If you need to reach us directly, email  [email protected] or [email protected].
Was this article helpful?