Interview with Joey LaVarco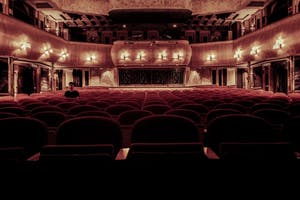 Over spring break, I had the pleasure of visiting the Big Apple to see the Tony Award-winning musical Jersey Boys. In honor of the show closing this past week, I've interviewed one of the actors from the show himself!
Hosted by the off-Broadway venue New World Theater, Jersey Boys recounts the story of how the 1960s iconic band, Franki Valli and The Four Seasons, was formed. The story begins with narration by Tommy DeVito, but the voice shifts throughout the performance to Bob Gaudio, Frankie Valli, and Nick Massi.
During my time in New York, I viewed four shows, and my favorite one by far was Jersey Boys for many reasons, but the greatest one was getting to see Joey LaVarco perform in the role of Frankie Valli. Playing the role of Joe Pesci and understudy for the role of Frankie Valli, Joey LaVarco, let us interview him for Prism; let's dive in to hear what he has to say about growing up, becoming an actor, and his advice for future performers.

Joey LaVarco grew up in Fairfield, New Jersey. He says it's "hilarious to anybody familiar with Jersey Boys because of the infamous Fairfield vs. Bloomfield scene in Frankie's car. According to the United States Census Bureau, it's the most Italian place in the US, and that's definitely true. It's full of Italian businesses and families." I'd love to watch this scene again after finding out his connection to Fairfield!
Diving back into his past, LaVarco decided to pursue a career in acting at a very young age. He recalls, "my mother was taking my brother, sister and me to broadway shows when we were little kids. We always loved it, but it wasn't until the 2001 Tony Awards when 'the bug' bit me. I'll never forget seeing Urinetown's performance of Run Freedom Run and knowing instantly that I wanted to do this. I learned the whole song and was doing the choreography on my coffee table. Eventually my mom took me to see the show (eight times) and I knew that I had to be up on stages like that, eventually." In fact, the very first Broadway performance LaVarco ever watched was the original Cats at the Winter Garden Theater. Funnily enough, LaVarco says "it's very ironic, because Cats is a heavy dance show and I am definitely not a dancer. I didn't see myself up there in a show like that, but I did love the idea of performers singing and dancing live for a bunch of people. The loud music and the production value were very exciting to me at that age. I thought the whole thing was magical."
Entranced by the "magic" of live theater, LaVarco went on to play in his very first role in a community theater production of The Music Man in the children's ensemble. LaVarco says, "I remember being gutted that I wasn't cast as the child lead, Winthrop. My mom had to constantly remind me that it was literally my first show. But nevertheless, an experience that I'll treasure forever."
Later on, in his acting career, LaVarco went on to play the role of Simon in Broadway's 13 the Musical, a show with a cast of ages 11-13 written by Robert Horn and Dan Elish. He tells us that "the greatest part about being in 13 was the experience of working with such a special group of artists, both teens and adults, creating this show together. My character, Simon, was one of the smaller roles, but it was such a collaborative process, all of us felt like a family and this show was our baby. It was really exciting to have music written for us, choreography designed for our bodies and personalities, and dialogue that reflected who some of us are in real life or jokes we've said to each other in passing during breaks. We also developed the show at Goodspeed in Connecticut before bringing it to Broadway and lived with each other in houses up there. The whole experience almost felt like summer camp, with a very professional vibe. It was life changing and I wouldn't trade it for the world." 
Moving on to his time as a part of Jersey Boys, I asked LaVarco about his favorite part of working with this specific cast, and he answered, "the cool part about almost every cast I've worked with is that there's so much history in these companies. I've worked with people who have done the show on Broadway, the national tours, the west end, the U.K. tour, South Africa, the cruise ship and so on. A lot of people have stories about the show's early days and their relationships to some of the real members of The Four Seasons. It's also a lot of fun to work with different companies of the show because while the material and the blocking are all the same in each production, different people bring different choices to the show. It forces you to listen more as an actor and it's always a very exciting show. Oftentimes, I'll do the show with people I met maybe 30 minutes before the start of the show. A famous line in the show that is the motto of Jersey Boys is 'Family is Everything' and it couldn't be more accurate."
As we all know by now, the Covid-19 pandemic hit the performance industry–especially live shows–harder than ever. Coming back from this, however, made it all the more "magical" for the audience, actors, and everyone else involved in the making of the performance. LaVarco describes this experience: "I think not just myself, but everyone who has returned to the stage after all this time is feeling an immense sense of gratitude. I feel like we've had the idea of live theatre returning just dangling in our faces for two years and then the dates just kept getting pushed further and further back. To finally get to perform for an audience full of people who were just as eager and excited as we were was such a gift. I'll never forget that night we re-opened, the excitement in that building was unmatched to anything I've ever witnessed." 
I would've loved to see this first performance after the pandemic, but I have to say that Jersey Boys is still unmatched in its energy from the actors that seems to entrance the audience like I've never seen in any other show. From all of these hit-numbers like "My Eyes Adored You," "December 1963 (Oh, What a Night)," and "Sherry" to name a few, I asked LaVarco what his favorite number was to perform: "Honestly, it changes all the time. It also varies depending on how the audience is responding to the show. When we have more exciting crowds, we have more fun. Right now, I'd say my favorite number to perform is "Big Girls Don't Cry."
From his experience and inspiring performance in his role of Frankie Valli, I asked LaVarco about the advice he has for aspiring actors joining the industry, audition tips, as well as what his life looks like daily. Here's what he has to say: "Always show up on time, be fully prepared, and be easy to work with. It doesn't make anyone's life easier when you are the opposite." Auditioning is, of course, an extremely important part of an actor's life, and can be quite terrifying to many attempting to land a role. LaVarco says, "my goal before I walk into an audition room is to be the most prepared I can be. That means having all of the material memorized and feeling confident with the choices I'm making. If all of that is in place, there's no need for nerves or doubtfulness. I try to have the mentality that the role is already mine so that the people behind the table can see who they would potentially be hiring." 
As for warm-ups before a show (if you're a singer, you'll understand), LaVarco says, "it truly depends on how I'm feeling that day, because it does change from time to time. If I feel a little more tired than usual, I'll do some tongue pulling while singing to release tension. Other days, I'll take a hot shower and hum for a few minutes. It's truly about listening to my body and figuring out what I need that day."
While watching these on and off-Broadway performances, a thought kept popping up in my head: what do actors do when they aren't performing? Well, being the true artist he is, LaVarco tells us: "if I'm not performing, I'm likely preparing audition material/looking for the next job. I do like to play guitar and piano in my free time. I'm a gamer nerd, so I spend a lot of time with video games. I try to surround myself with friends a lot of the time as well, who I feel are my best teachers in this life." 
LaVarco has played many different roles–more than I can count–and I wanted to hear about his dream roles for the future, in which he says he "really can't choose one because there are so many." Nevertheless, LaVarco admits, "a few I can think of off the top of my head: Finch in How to Succeed [in Business Without Really Trying], Jack Kelly in Newsies, Bobby Strong in Urinetown and Orpheus in Hadestown. This subject is constantly evolving and changing but at the moment I feel strongly about these picks."
Through his words, we've learned LaVarco's humbling, down-to-earth, and motivated pursuits within his personality which certainly must've supported his portrayal of Frankie Valli. His inspiring words came through the page as they did when I watched Jersey Boys. If you told past me sitting in the fifth row that I would be interviewing Joey LaVarco only two months after I saw my favorite show in New York, I would say you're crazy! But I guess dreams do come true.
Was this article helpful?