How to: Collage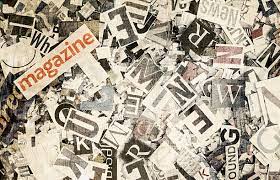 As we get closer to the start of the school year, we are arriving at an exciting time, Prism submissions!!! Submissions are now open to students for the 2022-2023 school year. If you were unaware, Prism accepts art and literature submissions from art, poetry, prose, music, films, photography, and many more. We wanted to share guides on how to get started, especially for those who want to share but don't know where to begin. This week's how-to is to explain how to create a paper collage. 
A collage comprises numerous materials, such as paper, magazines, newspapers, photographs, washi tape, fabric, and other materials that help support the collage, such as a piece of paper. A collage can be physical or electronic; both have their twist and final creative product. Please note this guide is for a paper collage; however, a fabric collage can have similar instructions. An electronic collage is a bit different than it is online; however, because there are specific layouts already created, there is a limit to how creative you can get with this one. It is up to you and your imagination to create something artistically extraordinary.
Steps
First, decide which type of collage you would like to make; deciding on the layout will also help, but you can always change it up as you go.

Gather all materials you'd like to use to create your collage. This can include various things, such as cutouts, tape, glue, and other materials you would like to add as decorations or to bring the piece together.

Choose a backing for your collage. This could be anything from a canvas, stock paper, paper, wood, plastic, and many other materials. Something secure enough to hold materials. 

Keep everything. By this, I mean everything, little scrapes, materials that didn't fit in your other collages. You can always use leftover materials for future projects; make sure to have a box for your materials, so they don't get lost!
Instructions 
Collect all the materials you think you will want in your collage. 

This could be a variety of materials such as paper, paper bags, cutouts from magazines, stickers, newspaper clippings, tape, glue, gems, and scraps of old memories.

Something to note, specifically about a paper collages, they aren't neat or very organized. They are all over the place, so have fun and tear the materials. Create different shapes and sizes. Create a new meaning to the collage by adding your ideas. 

Develop a theme if you'd like. There isn't a right or wrong way of creating a collage.

Before gluing anything to the page or canvas or whatever backing you use, figure out where you want to place everything. 

Align the work and rearrange it if it's not what you envisioned; you can always take away or add more.

The last step would be to glue the material, let it dry, and start a new one. 
Don't stress, and remember to have fun!
CraftsUprint, How to make a Collage, (UK, 2022)
Was this article helpful?