Daily Art Opportunities at OSU
Hello everyone, and welcome to Oregon State University! OSU and the rest of Corvallis have many opportunities for you to explore your creative side! We offer many different ways for you to enjoy art, ranging from art galleries, craft centers, and craft activities/events at cultural centers. Visit the places down below to de-stress, explore, and have fun! 
Craft Center 
The OSU Craft Center is located in the Student Experience Center in the basement. This center offers many different crafts and activities, including in-person workshops, classes, and open studios. Many of the activities offered at the craft center require a membership, with fees being applied to certain workshops or courses offered throughout, such as training in ceramics, fiber art, glass works, jewelry/metals, paper arts, woodworking, etc. However, the Craft Center also has free services for students, including kit check-outs that include watercolor paint, needle felting, drawing, woodburning, embroidery, shrinky-dink jewelry making, crochet, and many more! Check out their website for more: https://craftcenter.oregonstate.edu. 
Valley Library 
In the last couple of terms, the Valley Library located on campus has incorporated crafternoons during odd weeks. Although these events take place once a week, examples of crafts done in the past include rock painting, zine creation, collage and stamping making, friendship bracelets, and more.
Cultural Centers 
Oregon State University has multiple cultural centers and centers for students that help them find a supportive environment on campus. These centers hold many events to encourage students to get involved in a community, informed of the designated community, or to encourage them to take a study break. Check out their calendar to keep updated on upcoming events:
https://events.oregonstate.edu/department/diversity_cultural_engagement. 
Throughout the year, the Hattie Redmond Women and Gender Center holds crafting events once a week throughout the term and offers different crafts weekly. 
The

Cesar Chavez Center

, throughout the year, holds different events. Examples from this year include Cumbia Dance Workshop (where you learn a cultural dance), game nights, tortilla-making workshops, yoga/meditation, and various Bracelet workshops.

SOL

(the LGBTQ+ Multicultural Support Center) hosts talks/panels for the community, flea market events, and trans clothing swaps.

The

Pride Center

holds different crafting events throughout the year, such as Pride Jewelry Crafting, where you create different types of jewelry. The Pride Center also has a monthly book club. 

The

Asian and Pacific Cultural Center

has held film screenings such as "Call Her Ganda" and "Kumi Hina" in celebration of Trans Awareness Week. This center also houses the club meetings for the different ethnic culture groups, as well. Check the calendar in the front to see upcoming events!

The

Ettihad Cultural Center

has held art and origami nights where you are taught to make and build origami, tea parties, and networking events for international students.
The Arts Center 
The Arts Center is located downtown on SW Madison Avenue; it is a fabulous gallery filled with all kinds of art and workshops from a website lab where they show you how to use and build Wix, a space to create your own website. Art shows by the youth-themed exhibits and annual events such as Arts Alive, where artists share their processes and artwork. The Arts Center also has projections with other organizations to call out to artists to submit their artwork. Most of these projects are themed, but everyone is encouraged to submit any of their art! Themes include poetry, Veterans Day, Around Oregon, and even specific-sized art pieces. Check out their website for more information: https://theartscenter.net. 
Prism 
Prism is a student-lead organization powered by Orange Media Network located in the Student Experience Center on the 4th floor! Prism is dedicated to helping students bring out their creative side through publishing students' art and literature in the annual publication, in addition to creating events for students to create. The journal is published every year during Spring Term with submissions due in Fall Term. Prism is always open to volunteers where students can additionally contribute by writing blog posts and recording their own podcast episode. Volunteer meetings are all about unleashing your creativity! You can follow our Instagram page @osuprism and check out our website (https://prism.orangemedianetwork.com) for updates about submissions and more information about volunteer meetings. You can also reach us at [email protected].
Upcoming events 
Prism Launch Party 
Join us on May 8th from 5-7pm for the launch of the 2023 Prism journal! Celebrate featured student artists, munch on yummy food (hello popcorn, churros, and mini corn dogs), shop with our student vendors, play games, get exclusive access to the journal before it's released, and more! 📖 Mark your calendars now, you won't want to miss it! 🥳
NW Spring Fest 
If you're looking for something fun to do with your family the weekend of May 6th at 10am-4pm, come join the North West Spring Festival at the MU Quad. The NW Spring Fest. is an art fair that features artists from all over the state, featuring food carts and refreshments.
Ettihad Cultural Festival
This annual festival is held on Sunday, May 7th from 4pm-7pm at the SEC Plaza. Come join for cultural performances, games, and fashion shows!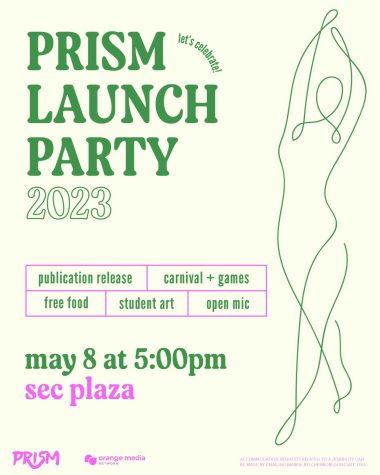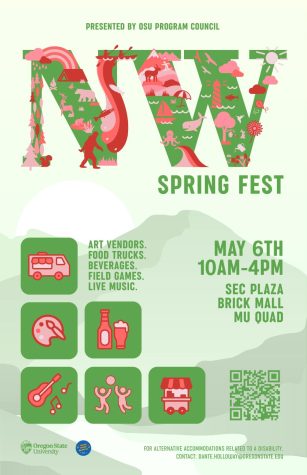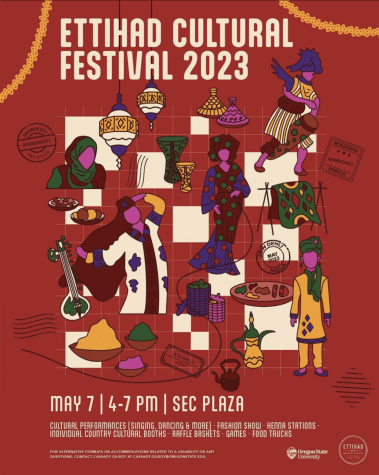 Was this article helpful?